Cuttack, famously known as the silver city is the thousand year old Cultural capital of Odisha. There are  plenty of famous tourist places in Cuttack
Cuttack is also the business capital of Odisha. Famous for it's cultural diversity, it is also famous for celebration of Dusserah festival and famous event's like the Bali yatra. 
Tarakasi is a more than 500 year old silver Filigree work from Cuttack which the world admires.
Top tourist places in Cuttack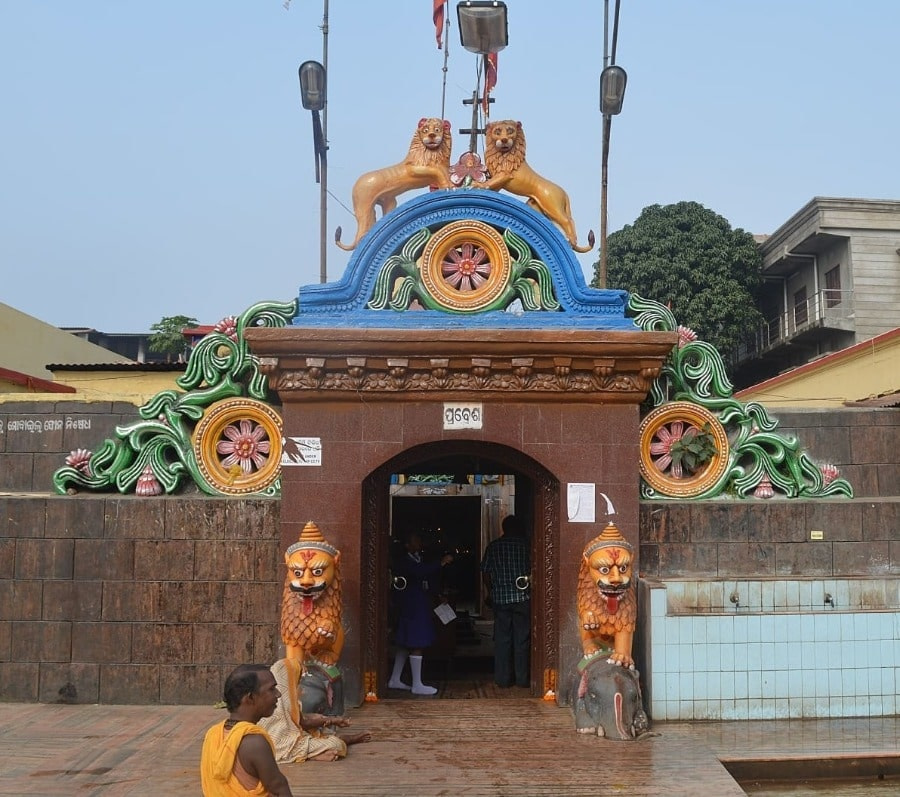 The Cuttack Chandi Temple is an ancient temple and Goddess Chandi is the deity of this temple. Nonetheless it is quite famous for the annual Durga Puja and Kali Puja celebrations. Here celebration of Durga puja begins from fortnight of Ashwina Krishna Ashtami till Ashwina shukla navami and Vijayadashami. This celebration continues for 16days. The goddess is famous as Maa Cuttack Chandi who sits and controls on the core of the city. She has four hands holding Paasha (noose), Ankusha (drive), signals scattering dread (Abhaya), and granting boon (Varada). Locals of Cuttack believe Maa Cuttack Chandi as "the living goddess"
It is belief that, tonnes of red sindoor came out while digging this place. Later Maa Cuttack Chandi immarged from this place. Subsequently the present day temple was built at the same place by the help of King of Kanika. Moreover, thousands of devotees visit this sacred temple everyday. The importance of this place in the hearts of the people of Cuttack makes it one of the top tourist places in Cuttack.
Netaji Subhash birth place museum
This is yet another place that makes to the top tourist places in Cuttack.  Cuttack takes the pride to be the birth place of Netaji Subhash Chandra Bose, the eminent freedom fighter of India. His birth place is famous as the Janakinath Bhawan. This site is in Odia bazar, Cuttack just behind the Big Bazzar complex. Netaji Subhas Chandra Bose was born on 23 January 1897 and spent his childhood here. Later on became one of the most prominent figures of freedom fighters in India. Subsequently he built and lead the Azad Hind Fauj and fought against the British.
This place has now been converted into a museum named Netaji Birth Place Museum. Now the museum showcases the original letters written by Netaji along with other important materials used by him. Currently this is one of the most visited tourist places in Cuttack.
According to sources, Odisha has a very old maritime history dating back to 800 BC. Looking at importance of the oceanic history of Odisha, The State Maritime Museum was established. Hence it is dedicated to the rich oceanic history and culture of Odisha.  Here it has been set up at a British period building at Jobra, Cuttack. Earlier this place was lying in decrepit condition for a very long time. Subsequently it was re-designed and converted to the famous Maritime museum.
The establishment stone of the building was set down in 1866. A large portion of the structures, machinaries in the new historical center are still in their original shape. Here they have been re-established in their unique spots. Currently the exhibition hall has around 10 displays. An aquarium, a library, a kids' action room, an auditorium, cafeteria, souvenir shop and an outdoor amphitheater. The building structure and the items in display here perfectly depicts the maritime history of Odisha. The aquarium here has an incredible assortment of oceanic life. 
In general an incredible prologue to the oceanic history of Odisha. Nevertheless, children and grown ups both will appreciate the spot equally. Hence this place finds its name as one of the best tourist places in Cuttack.
Famous annual events of Cuttack
According to few historians, Durga Puja was started by Saint Chaitanya Mahaprabhu when he visited Cuttack. His arrival in the city dates back to 1512 and 1517 AD. Currently one of the most important festival's celebrated in Cuttack is the famous Durga Puja. Here, this festival is celebrated with great pump and show. During this festival, one can easily feel the vibrancy of this city. There are several Puja committees who arrange the celebration of this famous festival. Although Kolkata is famous for this festival all over India, Cuttack is also matching the same standards.
Already famous as the Silver city, the Puja pendals in Cuttack are mostly theme based. Goddess Durga is decorated with Silver and gold ornaments. The magnitude of Gold and Silver used for the decoration can go upto several hundreds of kilos in most pendals. Lately it has almost become a tradition to increase the use of gold and silver every passing year. During this festival, thousands of tourists and locals flung the streets of Cuttack. Also one can witness the world famous silver filigree work of Cuttack in decoration of the Goddess. These gorgeous pendals are a testimony to the craftsmanship of Silver filigree workers Cuttack.
A beautiful tourist destination is what comes to our mind when we think of "Bali" in Indonesia. However, many do not know the connection between "Bali" in Indonesia and Odisha in India. This exciting holiday destination has an age old maritime relation with Odisha. Baliyatra is an annual event which commemorates this event.
Literal meaning of Baliyatra is "Voyage to Bali". This famous event takes place in Cuttack to remember the trading ties of Odisha with Bali, Indonesia. This festival takes place in the month of November and on the auspicious day of "Kartik Purnima". On this day, large women group congerate on bank of river Mahanadi and float symbolic miniature boats to commemorate the beginning of the voyage to Bali by brave Odia sailors. This customary ritual follows a week long grand fair  comprising of trade and fun together.
Displays at Cuttack Baliyatra
Traders from all over India gather at this fair to trade  their goods. More than 1300 stalls are allotted which is gradually increasing every year. Moreover, one can find almost everything at this fair. Starting from modern technology to traditional crafts and petty house hold items are availabl here. Famous items from every corner of India are on sell at this place. On the other hand, Chanderi sarees and brass metal products of MP, Woolen items from Kashmir, cane and bamboo products from Tripura, leather materials from Rajasthan along with Odisha's handloom and handicraft products are on display on different galleries. However, the food stalls attract the visitors the most at this fair. Do not forget to relish different Biryanis from all over India or the famous "Thunka Puri" of Odisha at the food stalls. This fair witnesses a footfall of more than two lakhs every day.
This fair is historic and is a must visit on the off chance that you are in Cuttack during this period.