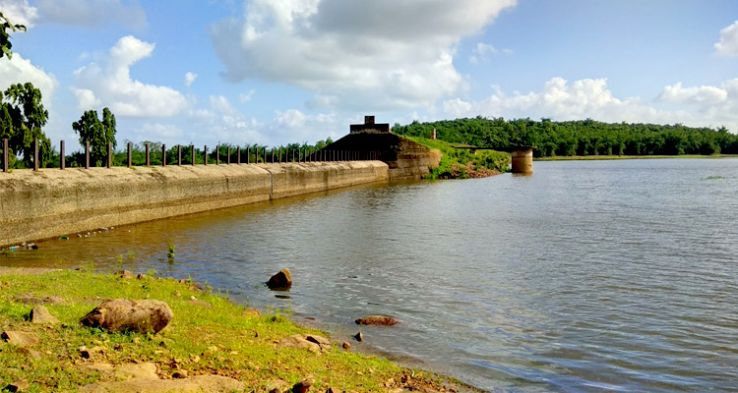 Deras Dam where nature prevails at its apex best is on the outskirts of Bhubaneswar. It is a well known spot and very popular among the local people and tourists for its picturesque excellence. Moreover it lies inside the Chandaka sanctuary and this adds to the beauty of the place. It is tranquil and there is greenery all around. Here are some decent climbing trails as well on the off chance that you are eager to investigate more. In general, an ideal spot for a weekend escape or an excursion from the busy city life.
Deras Dam lies around 25 km away from the city of Bhubaneswar. It is a small dam which is mainly used for irrigation purposes and is within the proximity of Chandaka Elephant Sanctuary. On the other hand, the spot is a well known outing spot because of its massive greenery all around. Here you can take a guided safari of around 40 km or enjoy stunning perspectives from the slope top cottages. Moreover the Dam comprises of a reservoir loaded up with rain water. 
Things to do at Deras Dam
The cottages are on top of a ridge close to the dam and offers astounding perspective on the region encompassing the house. The ridge cottage comprise of 3 furnished huts. There is an office of guided safari for around 40 km close to the dam. On the contrast, travelers can decide only a day outing at the dam or to stay for the night at the hut. Nonetheless, Deras dam is a perfect spot to visit at any time around the year.
The dam is encompassed in complete tranquility and makes for an extraordinary day long break. The plenitude of greenery, little hillocks, quiet waters and thin ways among the wild all make for a sight which is a rewarding for the eyes. If on a day trip to this place, you can also include few near by places which are worth a visit. 
Jhumka Dam: Yet another small but beautiful dam and reservoir close to Deras dam and is worth a visit. It is only at a distance of about 4.0 Kms from this place. Best part is, there is no entry fee to this place. Travelers who love beauty of nature along with calmness must include this place in their itinerary.
How to reach Deras Dam
It can be a bit difficult to reach Deras dam. However you can hire a vehicle to reach here from Bhubaneswar. Rest assured, it is worth visiting Deras dam for a day.
Best time to visit
Winters are the most preferred time for picnic parties. However one can visit this place all the year round. But do not forget to carry your camera, a comfortable pair of walking shoes along with bottles of drinking water.